BROADWAY SHOWS AND CONCERTS
Broadway Shows and Concerts
Concerts and Broadway Shows – they're two things that almost anyone enjoys. Whether it's finally getting a chance to see their favorite band live or enjoying a fantastic Broadway production, there is something to satisfy everyone's tastes.
That's why, at Odenza, we offer businesses a simple means of being able to offer their customers experiences such as these.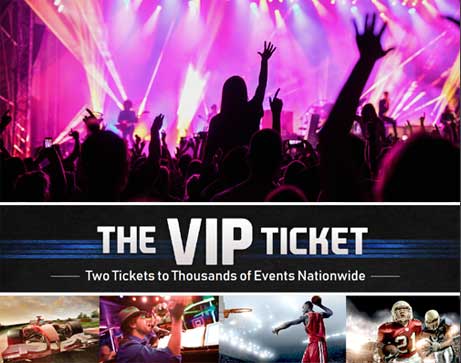 The VIP Ticket
Over the years, our VIP Ticket program has evolved and become one of our most popular incentive products. The way it works is simple: you gift the VIP Ticket certificate to your customers, which enables them to purchase two tickets to an event of their choosing across North America – these events include concerts, Broadway Shows, and even sporting events (check out our Sports Prizes page to learn more).
Their two-ticket purchase can be of a value up to $300 (or $150 per ticket), and will secure them a place to whichever event they want to attend in the US or Canada.
Of course, if they want to check out something local to them, they can just as easily do that, too.
The simplicity and flexibility of the VIP Ticket means almost any of your customers are going to be able to make good use of the product. Now, with that said, if you want to arrange more customized vacation options that include a Broadway Show or concert, Odenza can help you on that front, too.
Grand Experiences with Concerts and Broadway Shows
As with all of our Grand Experience offerings, we can help your business set up a fully customized vacation experience for your customers. Whether this is utilized as a type of grand prize or a special reward for your most loyal customers, Odenza can ensure you're able to offer a prize your customers will absolutely love. For example, a long weekend stay in NYC, including hotel, spending money and, of course, a Broadway Show.
We're Here to Help
Since 1998, Odenza has pioneered in the travel incentive industry and stands as one of the premier providers of travel and experiential rewards. Our products and services have helped thousands of businesses boost sales, inspire customer loyalty, and stand out from both their direct and indirect competitors.
No matter the reward or experience you want to offer your customers, we'll help your business get ahead. To find out more, be sure to shoot us a message through our contact page or fill out the form below.
If you have questions about our Grand Prizes, please contact us at 1-866-883-8205.