Platinum Vacations
Odenza's Platinum Vacations provide four fantastic options for your business to reward employees, top agents, partners and distributors, or to use as prizes inside your marketing programs. Each Platinum Vacation is a pre-defined, pre-priced vacation/experiential offer with no out-of-pocket costs to the recipient; making each a perfect option if you want a reward with unrivalled experiences for your recipient. Easy to use, all you do is hand out the beautiful vouchers and our team will handle the service, booking, and follow-up.
Contact us today for details and pricing.
The options available under our Platinum Vacations include:
5-Day Cruise Adventure
7-Night Luxury Resort Stay
One-Week Getaway (with over 3,000 resorts to choose from)
The VIP Ticket (2 tickets to thousands of events throughout North America)
5-Day Cruise Adventure
The 5-Day Cruise Adventure includes a 4-night/5-day cruise for two on a Carnival Cruise line to destinations that include the Bahamas, Mexico, or the Caribbean.
Departure ports include Long Beach, CA; Port Canaveral, FL; Miami, FL; Galveston, TX; New Orleans, LA; or Tampa Bay, FL.
7-Night Luxury Resort Getaway
For the 7-Night Luxury Resort Getaway, your customers will be entitled to 7 nights of luxury accommodation at the Mayan Palace by Vidanta in a Mayan Palace Master Room. Accommodation is for 2 adults and 2 children (ages 11 and under).
Resort locations include Mayan Riviera; Puerto Vallarta; Nuevo Vallarta; Acapulco; Puerto Penasco; or Mazatlán, Mexico.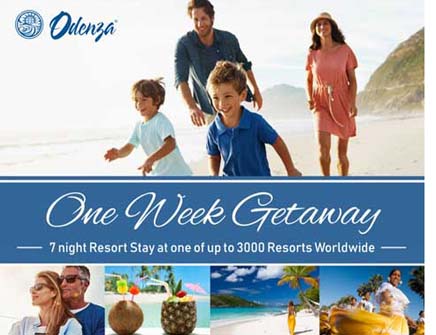 One-Week Getaway
Odenza's One-Week Getaway is the perfect option for couples, providing an individual and a companion to 7 nights of resort accommodation (one room, double occupancy) at one of 3,000+ resorts across the globe.
These include destinations such as Canada, USA, Mexico, the Caribbean, Atlantic Island, and Central and South America.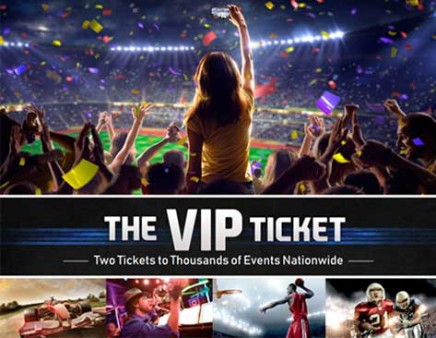 The VIP Ticket
The VIP Ticket allows recipients to secure two tickets to an event of their choosing throughout North America. Whether they love sports, concerts, or even Broadway Shows, VIP Ticket recipients get to choose the event they want to see – so they're guaranteed to have a blast.
With a total value of $300 ($150 per ticket), the VIP Ticket is incredible value across the board.
We're Here to Help
No matter the type of prize you're looking to offer your customers, Odenza is here to help you every step of the way. Whether you opt for one of our pre-designed Platinum Vacations or decide that you want something custom-built, we have the products and expertise to make this possible.
Since 1998, Odenza has been a pioneer in the travel and experiential incentive industry. We have dedicated sales, marketing, and travel departments; each ensuring that we can offer your business the very best products and support possible.
Our fantastic team of travel consultants ensure your customers will have exceptional experiences that they'll remember for the rest of their lives.
If you want to learn more, get in touch with us by filling out the form on this page or you can reach out to us via our contact page.
But Wait, There's More! (Grand Prize Options)
Along with our Platinum Vacation Prizes, Odenza also offers Grand Prize solutions in the forms of Gift Certificates and Grand Experiences. You can learn more about these range of products by clicking on the links below:
If you have questions about our Grand Prizes, please contact us at 1-866-883-8205.