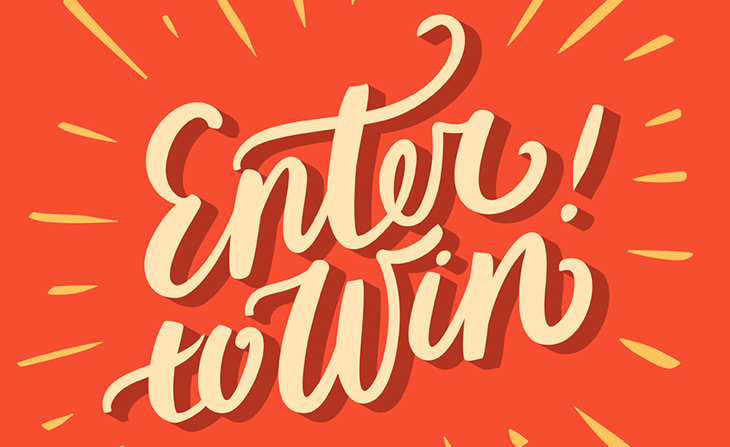 It's tough to come up with fun and creative ideas to attract customers to your store, but it's the only way that you can succeed in owning your own business. Additionally, it's imperative that these ideas help you to stand out from the competition.
One great option is to host a special event or a weekend sale and offer prize giveaways. This is a great way to bring more and new customers into your business and help you generate a constant flow of communication between you and them. Offering prizes will also help to generate excitement and energy in the room, making it a great way for you to stand out from your competitors.
Why Have Prize Giveaways?
Essentially, and mentioned previously, because it's a fun, exciting way to bring customers into your store. A lot of planning goes into this, such as deciding what prizes to offer, developing keen marketing strategies, providing great customer service, and so much more. When planned correctly, offering prizes will generate excitement and keep customers engaged and happy.
Prize giveaways will also allow you to collect customer emails, phone numbers, etc., so you can stay in contact with them. This will generate loyal and regular customers and help you to build meaningful relationships with them. If you're a successful business entrepreneur, you know it's not a good idea to only interact with your customers once.
It's true that offering prizes is one of the best ways to bring in business, but if it's executed incorrectly it can really hurt you at the same time. Because of this, one question comes to mind; which prizes have the most value?
Which Prize Works the Best?
Prize giveaways offered at a special event/weekend sale can make or break the occasion. There are a number of things to keep in mind when deciding on what prize to offer, but the three most important are your budget, your clientele, and what profitable goal you want to reach.
Picking a prize that's affordable and that your customers will like is difficult. Because executing your special event and prize giveaway is so important, it might be a good idea to outsource. With that being said, a great option is to offer your customers a travel incentive that Odenza can help you put together.
Travel Incentives are the number one prize to offer customers, which makes perfect sense! There are other prize options like money, but this is something your customers probably see on a day-to-day basis, and doesn't provide the customer with a meaningful experience like a vacation does. Most people only vacation about once a year, some getaway even less, some people may have never been out of the country before! So when someone gets to go on complimentary vacation with a loved one, it really does make all the difference.
How Odenza Can Help with your Budget
You may be thinking that a travel incentive won't work with your budget. This isn't necessarily true. Yes, the most important thing, before you do anything else is to figure out a budget. It's important in any business endeavor to sit down and map out your expenses before diving into spending; a special event/prize giveaway is no exception. You don't want the qualifying price, or incentive, to be something that you and your customers can't afford. You need to figure out what you can afford before going any further with your business endeavor. Essentially, you need to take your time and plan things out. Don't rush into anything and set reasonable goals for yourself.
Odenza understands this and how important it is to budget. Because of this, there are a number of affordable travel options. You're sure to find something, not only affordable, but something that your customers will love. Don't think that just because you're a small business, you can't afford something nice like a travel incentive. Odenza's marketing specialists sit down with you and go over all the options we have for vacations. There're lots to choose from, which means that anyone can invest in a travel incentive when working with Odenza. Your customers will be happy and you'll see a serious profit because of it.
How Odenza can help with Clientele
When putting prizes together, you have to think of your customers; your relationship with them, effective marketing strategies to bring them in and how you'll follow-up with them when the contest is over.
Marketing strategies and customer satisfaction go hand-in-hand. You want to sell the idea to your customers and create awareness of your product, while at the same time not coming off as being too pushy or persistent. You really need to think about effective advertising and customer satisfaction. Know the social media websites your customers visit regularly and post to the correct platforms as much as possible. A great way to figure this out is by testing the each website; post to all of them and see which website gets the most traffic.
Also, the sign-up for your contest needs to be simple. Offer the right amount of time to enter the prize giveaway and make sure the time of year is also on point (holiday seasons, events, etc.,).
Finally, you need to follow-up with your customers; see if they enjoyed their prize/contest, reward those who didn't win in a small way, and continuously communicate with them so that they want to come back to your store.
Fortunately, Odenza is here to help with all of this.
Travel Incentives are the leading prize choice among customers and it makes sense why. As mentioned before, it's a great alternative to money and provides customers with an experience they'll remember for years to come. Why not offer them a great time with their loved ones?
Odenza was voted as the number one choice by businesses for travel incentives. Also, Odenza's marketing and sales departments have won three awards because of their excellence in customer satisfaction and creative advertising designs. Finally, with the free marketing materials and support in promotion, print and web designs, copyrighting, writing, and SEO, it's hard not to choose Odenza.
The execution of your customer's travel incentive will run smoothly from start to finish, making your customers very excited to go on the trip and happy because of the good time they had.
How Odenza Can Help with Your Sales Goals
Establishing goals, specifically sales goals, is an important step when coming up with a contest idea, prize giveaways, or planning a special event. As previously mentioned, if you're a small business owner, it's important to pay close attention to your money and set reasonable sales goals. You don't want to go overboard or rush into anything as this will hurt you later on.
The great thing about travel incentives is that they help businesses not only meet their sales goals, but exceed them. You'll not only make back the money that you spent but gain a lot of profit at the same time. According to a study conducted by incentives magazine, travel incentives increase a companies' sales by 15%.
Odenza will be with you every step of the way. We'll not only help you come up with some great sales goals, but we'll push you to do everything you can so that you can exceed those goals.  We'll assist you with everything from advertising to helping your customers with their trip. This is because we understand how important it is to make a profit and meet your goals. When your business does well, we do well.
Other Reasons Why Outsourcing is a Great Idea
There are a few other reasons why outsourcing is a great idea for offering a travel incentive.
First, each country or state has different rules and regulations when it comes to prize giveaways. That's why, in some advertisements for various sweepstakes, you see certain states excluded in the fine print. It can be very confusing at times (as the law often is) to understand and be aware of the various rules that need to be followed. That's why it makes sense to hire someone, like Odenza, who understands and is aware of these various laws.
Second, if you chose an international destination, and not a domestic destination, this can create some complications, such as language barriers, currency conversion, different laws and customs, etc., What makes life easier is discussing all of this with a third-party that's familiar with all of this. Odenza has certified travel agents at the ready to help with everything just mentioned and more.
Finally, planning a travel incentive isn't a part-time gig. It can be very stressful and, if not handled correctly, can result in some unsatisfied customers. Things like promotion, marketing strategies, hotel cancellations, trip planning, etc., can be very stressful to deal with on your own. As mentioned previously, Odenza's travel agents are equipped to deal with this overwhelming and busy planning.
So there you have it. Special events and prize giveaways, specifically travel incentives, can be great for your business if done and executed correctly. With all of Odenza's awards and satisfied customers, why would you go with any other business? Let Odenza make your prize giveaway one your recurring and new customers will positively remember for years to come. Let us help you stand out from the competition.